10 Days Until 3rd Anniversary Tea Party
Are you armed with tickets?
If not, get them today.
Here's the details: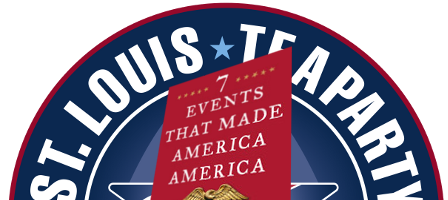 Join St. Louis Tea Party Coalition's 3rd Anniversary Tea Party Weekend
It's time to prepare for the new Tea Party Revolution. 2012 will be the most important election of our lifetime. We must make sure we are doing everything we can to stop this Administration. Join us February 24th and 25th to learn the MUST know for this election cycle.
This will be two days of speakers, activist training and a complete, end-to-end, mock caucus. This is_the_ absolute cannot miss event of the season.
Check out the details of this exciting event:
**Friday Night: Doors Open 6:30**
Dr. Schweikart 7:00, "7 Events That Made America America"
Heavy Hors D'oeuvres plus drink ticket included.
Mingle, meet Dr. Schweikart and enjoy a cash bar and music after the presentation.
Enjoy "7 Events That Made America America" presented by the author and former rocker, Dr. Larry Schweikart. Dr. Schweikart will take us through 7 lessor known events in American history that made this country great.
**Early Bird Special: First 50 tickets include DVD of Dr. Schweikart's documentary Rockin' the Wall.**
To the real work all day Saturday.
**Saturday: Doors open 7:30, training starts at 8:30**
This is a Super Training Event-start with an end goal and an empty action plan, then spend the day filling it out. We will put you to work doing the things that need doing to get out the vote in November. Bring your favorite technology-you'll need it!
**We will also have favorite St. Louis speaker Bill Federer for our lunch keynote!** Bill will entrance you with his knowledge of history and religion. He is one of the most in demand speakers in St. Louis and across the nation.
Our training offering includes several activist tracts-from the beginning to the advanced-you will not be disappointed. We will not only give you the training but we are going to put you to work that day.
Jim Hoft, the GatewayPundit will lead our advanced blogging class, "Take your blog to the next level"
If you want to learn to use Twitter, you will begin using it immediately and you will develop an effective action plan for using it through November to drive opinion.
If you have always wanted to blog-you will start a blog, learn basic design and find out how build your following.
If you want to become a Precinct Captain and learn how to effectively knock on doors and influence voters-you will learn everything you need to know now.
Plus a full Mock Caucus from beginning to end so you are prepared to influence the Caucus process in March.
These are just a few examples of the things we will teach you in one very intense day of activist training.
Breakfast and lunch are included.
It's been 3 years since we all met for the first time on the steps of the Arch. We've become a major force in politics, and perhaps the most powerful faction in the Republican party. This weekend is all about winning! Friday night is fascinating evening with one of America's foremost historians, Dr. Larry Schweikart. Saturday you get a full day of serious activist training plus breakfast and lunch, amazing speakers and trainers. This final push toward the election is what our movement is all about. Join us. If you can't join us, please consider sponsoring someone else.
When & Where
Crowne Plaza Hotel–Clayton, MO 7750 Carondolet Ave Clayton, MO 63105
Friday, February 24, 2012 at 6:30 PM (CT)